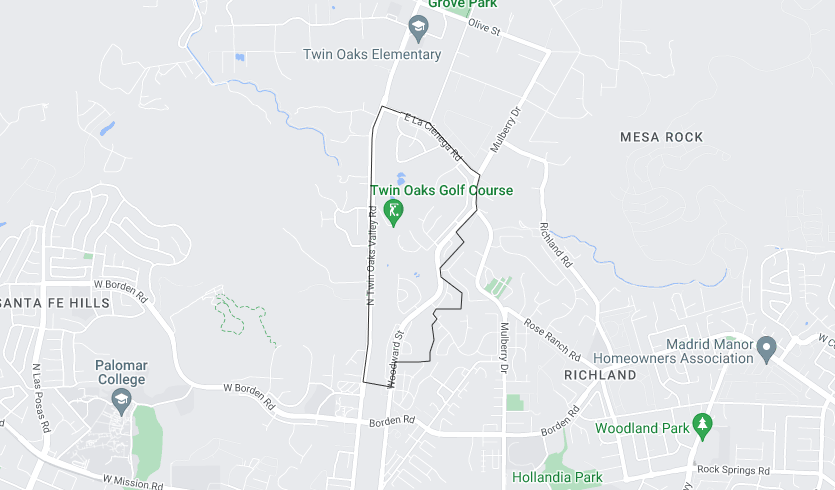 Welcome to Twin Oaks Valley Ranch, a picturesque and vibrant community nestled in the heart of San Marcos, California. Discover the perfect balance of natural beauty, modern amenities, and a thriving neighborhood spirit that makes Twin Oaks Valley Ranch the ideal place to call home.
One of the most enticing aspects of Twin Oaks Valley Ranch is its stunning natural surroundings. Set against a backdrop of rolling hills, lush greenery, and scenic vistas, this neighborhood offers a serene and tranquil environment that is sure to rejuvenate your senses. Immerse yourself in nature with nearby hiking trails, parks, and open spaces, providing endless opportunities for outdoor recreation and relaxation.
The homes in Twin Oaks Valley Ranch are truly exceptional. From charming single-family residences to spacious estates, each property reflects exquisite craftsmanship, modern design, and a wide range of amenities. Whether you're seeking a cozy family home or an impressive retreat for entertaining, you'll find the perfect residence to suit your lifestyle.
The community spirit in Twin Oaks Valley Ranch is palpable. Neighbors come together to create a warm and welcoming atmosphere, fostering a strong sense of belonging. Enjoy socializing at community events, participating in recreational activities, or simply connecting with like-minded individuals who share a passion for this wonderful neighborhood.
Twin Oaks Valley Ranch is also renowned for its top-notch schools, making it an excellent choice for families. Benefit from access to acclaimed educational institutions that provide a high-quality education and a nurturing environment for students of all ages. Your children will have every opportunity to thrive academically and socially, setting them up for a bright future.
Convenience is another key advantage of living in Twin Oaks Valley Ranch. The neighborhood offers easy access to major highways, putting you within reach of the vibrant cultural, entertainment, and business hubs of San Marcos and neighboring cities. Additionally, a variety of shopping centers, dining options, and recreational facilities are just a short drive away, ensuring that all your daily needs are met with ease.
Investing in a house in Twin Oaks Valley Ranch is not just acquiring a property, but embracing a lifestyle that combines natural beauty, community, and modern convenience. Experience the best of San Marcos living and create lasting memories in this desirable neighborhood.
Don't miss the opportunity to make Twin Oaks Valley Ranch your home. Enjoy the perfect blend of tranquility, community, and convenience in one of San Marcos' most sought-after communities.